Obituary for Rodney Wise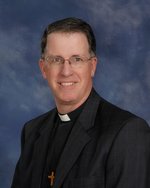 Rev. Rodney A. Wise, asleep in Jesus on March 16, 2017. Beloved husband of Julie Atwood-Wise; loving father of Clark and Evan (Jennah); proud grandfather of Ezra; devoted brother of Bonnie (Charlie) Fahrner; son-in-law of Twylah (and the late Thomas) Atwood. He was preceded in death by his loving parents, Wilbert and Mary (Lacy) Wise.

Born and raised in Springfield, IL, Rodney attended Springfield High School. He was a graduate of the University of Illinois and Univ. of Ill. College of Law. During 14 years as a practicing attorney, he served in private practice, as a bank trust officer, and finally as a staff attorney for the Legislative Reference Bureau in Springfield, Illinois. Upon receiving his Master of Divinity degree from Concordia Seminary in St. Louis in 1999, he was called to serve Our Redeemer Lutheran Church in Overland, Missouri, and Glendale Lutheran Church beginning in 2013. At various times he served as pastoral advisor to the Lutheran High School Association and to a local zone of the Lutheran Women's Missionary League.

Rodney's interests included jazz music and playing trombone, absorbing knowledge about theology, philosophy, and history, dabbling with woodworking and stained glass projects, and following Cardinals baseball and Univ. of Ill. sports. He utilized sports as a means of spending time with his sons and teaching life lessons, coaching them in basketball, baseball, and golf. His dry and relaxed sense of humor made his lessons relatable and unintimidating. His gift for teaching was shaped by his legal background, granting him the ability to explain things in a way that was methodical, analytical, and easy to follow. He was most passionate about teaching confirmation -- cultivating the ability for youth to think critically, empowering them to navigate the modern world and apply their faith throughout their lives.

Visitation will be held on Friday, March 24 at Bopp Chapel, 10610 Manchester Road from 3-7 p.m., and one hour prior to the funeral service to be held at 11:00 a.m. on Saturday, March 25, at Glendale Lutheran Church, 1365 N. Sappington Road. Interment follows at Mt. Lebanon Cemetery. Memorials may be directed to Glendale Lutheran Church, Concordia Seminary-St. Louis, and Lutheran Hour Ministries.